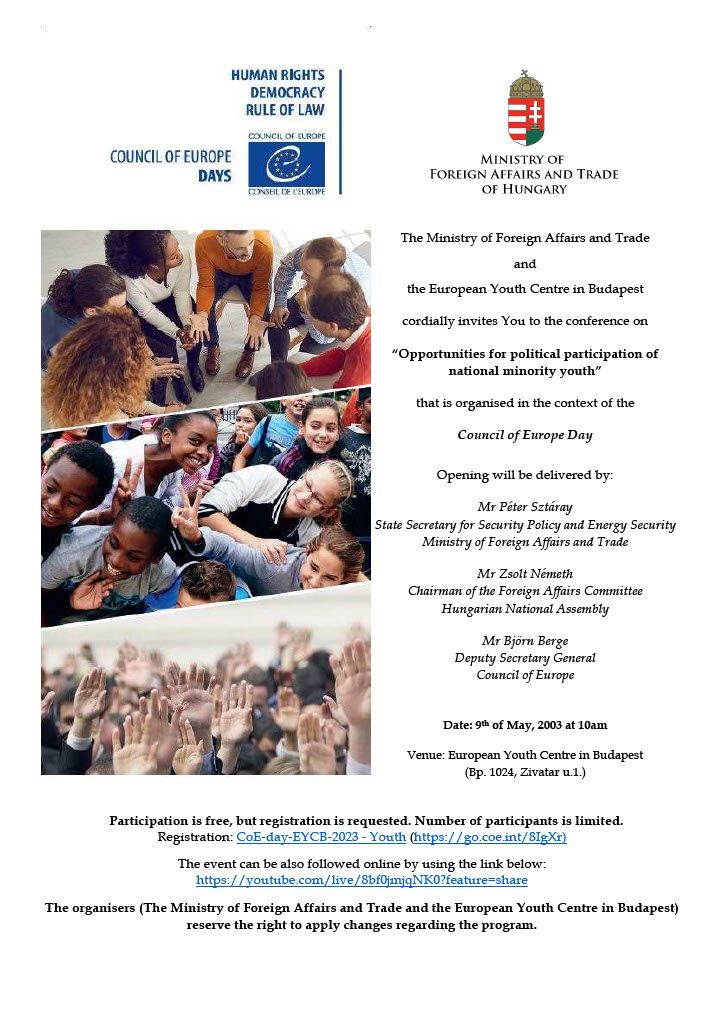 DRAFT AGENDA
Council of Europe Day
*Opportunities for political participation of national minority youth*
May 9, 2023
Location: European Youth Centre in Budapest - EYCB (1 Zivatar Street, Budapest 1024)
Time

Program

Technical details

 

10:00 am

 

Welcoming remarks

Mr Ferenc Kalmár, Special envoy of the Minister for Developing Neighbourhood Policy of Hungary, Ministry of Foreign Affairs and Trade

Mr Bálint Molnár, Director, European Youth Centre in Budapest

Mr Björn Berge, Deputy Secretary General, Council of Europe

 

Opening ceremony

Mr Péter Sztáray, State Secretary for Security Policy and Energy Security, Ministry of Foreign Affairs and Trade of Hungary

Mr Zsolt Németh, Chairman of the Foreign Affairs Committee, Hungarian National Assembly

 

 

Public to the press

 

10:30 am

Keynote presentations

Dr. Wolfram Bechtel, Secretary of the Steering Committee on Anti-Discrimination, Diversity and Inclusion (CDADI), Council of Europe

Dr. Adrienn Tóth-Ferenci, Hungarian delegate in the CDADI

 

First panel: opportunities for the political participation of Hungarian youth in the neighbouring countries

Participants:

Mr László Gubík, Association for Common Goals, Via Nova – Slovakia

Mr Dávid Simon, Youth section of the Transcarpathian Hungarian Cultural Association – Ukraine

Ms Dóra Szilágyi, Vice-president, Youth section of the Democratic Alliance of Hungarians in Romania

Mr Attila Edmár, Hungarian Youth Conference – Hungary  

Moderator:

Dr. Gergő Kocsis, Head of UN Department, Ministry of Foreign Affairs and Trade of Hungary

 

 

12:30 pm

Lunch Break

 

 

1:30 pm

 

Keynote presentations:

Ms Pia Šlogar, co-chair of the Programming Committee on Youth, and External Representative of Youth of European Nationalities (YEN) and member of the Advisory Council on Youth

Mr Imre Ritter, Chairman of the Committee on National Minorities in Hungary, Hungarian National Assembly

 

Second panel: Political participation of national minority youth in Hungary

 

Participants:

Ms Blanka Jordán, President, German Youth Association in Hungary  

Mr Milán Kovács, Croatian National Self-Government in Hungary

Mr Bence Szeljak, President, Slovak Youth Association in Hungary

Mr Domokos Péter Kovács, presidential representative of the National Youth Council

Moderator:

Mr Richárd Tircsi, Head of Department, Department of Nationalities, State Secretariat for Church and Nationality Relations, Prime Minister's Office

 

 

 

 

 

 

 

3:30 pm

 

Closing remarks

Mr Ferenc Kalmár, Special envoy of the Minister for Developing Neighbourhood Policy of Hungary, Ministry of Foreign Affairs and Trade

 
Participation is free, but registration is requested. Number of participants is limited.
Registration: CoE-day-EYCB-2023 - Youth
The event can be also followed online by using the link below:
https://youtube.com/live/8bf0jmjqNK0?feature=share
The organisers (The Ministry of Foreign Affairs and Trade and the European Youth Centre in Budapest) reserve the right to apply changes regarding the program.